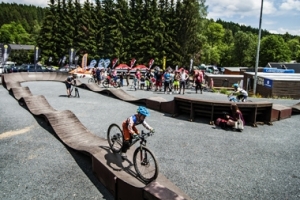 Bikepark Kopřivná is located in the very heart of the Jeseníky mountain range: in Malá Morávka, a village that lies in the shade of the tallest Moravian mountain: Praděd. The resort offers a modern six-seat ski lift equipped with unique bike carriers. It is a very varied resort and riding here is suitable for anybody, from absolute beginners to capable bikers. The park has six various tracks with several alternatives, connections, and it also has a wooden pumptrack. As the vertical distance of this hill is not excessive (200 metres), riding local trails is not so physically demanding. 
Popularity of this resort is increasing also thanks to the fact that it hosts various sports and cycling events, such as Kopřivná Bike Festival, Czech Enduro Series, riding skills improvement camps, bike schools and bikecamps. The resort cooperates with Kamil Tatarkovič, who is one of the best Czech bikers of modern times.
Facilities at Kopřivná are just great, and they make the resort an ideal place for weekend riding or a week-long holiday. You will be enchanted by the natural beauty of the Jeseníky mountain range, and Praděd, the famous mountain, is just a stone's throw away. And once you get tired of riding your bike, you can go to a pool, enjoy wellness services or eat out in a great restaurant. Several types of accommodation are available in the vicinity. 
Trails
FUN TRAIL
Difficulty: low, length: 3.5km - a trail that can be ridden by anybody. Suitable for rookies, children and intermediate bikers. Features: diverted bends, berms, bumps or small jumps. The trail has a reinforced surface and the track can be ridden by a HT.
SPICY FREERIDE
Medium difficulty - a popular freeride trail full of jumps, berms and wooden features. It is a paradise for those who love jumping, but still, it can be ridden by a rookie, too (all difficult features can be avoided or ridden safely).
DOWNHILL
difficulty: high, length: 1.5 km - technical downhill trail that is abundant with stones and roots. It is the steepest and the most demanding track in the whole park, and in order to venture on it, it is advisable to have a downhill or freeride bike with greater travels.
GRAVITY LINE
medium difficulty - a slower, more technically demanding route with several roots and boulders. Wooden benches, bridges and other features are what make it really enjoyable.
FAMILY 1 AND FAMILY 2
Very easy routes designed mainly for scooters and tricycles, or for recreation cyclist who do not feel like venturing on the tracks of the bikepark.
SINGLE TRACK
The only climbing trail in the resort that runs all the way to the top of the hill. It is a narrow path that takes about 30-40 minutes to ride in a cozy pace.
Services
Yes
Yes
Yes - Kellys Bikes
Yes
Yes
Yes
Yes
Yes
Yes