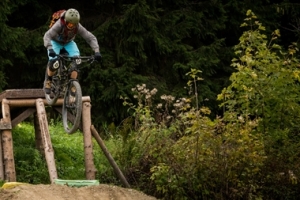 Bikepark Kyčerka is one of the main centres of a biking region called Bikeresort Valašsko. By its general character, it is a typical bikepark: a lift will take you up on the hill and you can choose one of three lines running through a ski slope to get down. If you think that you need a downhill bike, you are wrong: you can make a do with a trail bike. Trails are not excessively difficult and will be enjoyable for less experienced riders, too. And what is more, another lovely flow trail is located only a short distance from the bikepark itself. It runs through surrounding forests and invites you to make longer trips into the mountains around you.
 
The bikepark can serve as the point of departure for a climb to the famous Marikovské traildorádo in Slovakia that is a part of the Bikeresort Valašsko region.
 
The bikepark consists of 6 trails of various difficulty.
 
A lift with a simple bike mount can be used to get easily to the hilltop.
Trails
SCRAMBLE TRAIL
A 980-metre-long black trail of medium difficulty; includes jumps and berms
PLAYFULL TRAIL
This red trail that is 1.2 km long includes wooden and dirt jumps, berms and forest sections
UNIVERSITY TRAIL
It has a length of 1.3 km and has a blue marking, which means it can be easily ridden by beginners and experienced riders alike who like speedy ride over meadows, berms and dirt steps. All is finished by a long wooden feature.
STOUPACÍ TRAIL
This climbing trail is 1.6 km long and is located right next to the bike park grounds. It will take you up on the top of the hill.
BAĎURKA
The first third of this trail is fairly easy, the rest of the trail is a bit steeper and changes its difficulty to medium. It has a constantly hard-packed surface and includes several berms, bulges and other uneven features that make the ride enjoyable and lively. The trail uses existing natural features and is of a very natural character.
Services
Yes
Yes
No
Shop in Velké Karolovice
Yes
Yes
No
Yes
Yes