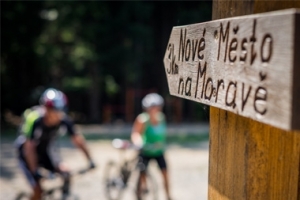 Cyklo Aréna Vysočina is located in the very heart of the Vysočina Region, a stone's throw from the town of Nové Město na Moravě. The tracks are a part of a large grounds that is famous for being a venue for biathlon and MTB World Cup events. In 2016, the location hosted UCI Mountain Bike World Championships. Due to perfect facilities and excellent track, the World Cup event in Nové Město na Moravě was repeatedly awarded by the "Best Event of the Season" prize, which is a great honour for the organizing team.
The arena could take advantage of its racing heritage and offer great reputation both at home and abroad from the very beginning. The people who came up with the idea and who have been putting it in practice are also members of the MTB World Cup event organizing team, and planned the local trails with one concept in mind: to build a high-quality grounds suitable for cyclists of any skill and fitness level. Therefore, it offers technically easy, fun and safe trails for children and natural trails for handicapped cyclists that can be ridden in a wheelchair or on a handbike. At the same time, however, there are some really hard trails for experienced riders that are based in current trends in trail building for Moutntain Bike World Cup events. You can try to ride sections where Jaroslav Kulhavý (the winner of the Olympics in London) competed with Nino Schurter (the Olympic winner from Rio).
Cyklo Aréna Vysočina offers great riding opportunities for those with hard tails or short-travel fullies. This place doesn't have much to offer to adrenaline lovers with enduro or even DH bikes (you will not enjoy riding them here at all), but if you prefer a place offering fun riding opportunities, you will find the Aréna fine. MTB and road-bike routes are an extension of the Vysočina Aréna; they will take you to a more distant places and present you more of the Vysočina Region natural beauty.
Trails
WARM-UP TRAIL / 9 KM
It is good to warm up before every training session. This is why we included a blue trail into our network of trails, where you will not find any steep climbs or demanding sections full of stones. This trail is for all people who like to ride bicycle for the pure joy of it. Many turns, heaps of fun and no stress from a difficult section ahead. The Warm‑up Trail is suitable for parents with children and cyclists who may still need to improve their skills. Its difficulty is in demands on keeping the correct line and passing through curves smoothly. At the same time, it can be recommended as a real warm-up for experienced bikers who are planning to ride more difficult trails later. And if you happen to be disappointed by the low difficulty of the trail, we have advice for you – ride faster! You will be surprised how difficulty will increase with your speed. :)
HORS CLASS TRAIL 1 / 7KM
HORS CLASS TRAIL 2 / 4KM
By their importance, Hors Class races are just below the World Cup. Races are not covered by television, so the tracks are usually longer and span over a greater area. Their technical difficulty is varied, but usually, these tracks offer direction changes, technical climbs with roots, sharp bends and sudden velocity changes that force the rider to shift often. To be able to succeed on Hors Class trails, you really need to have perfect control over your bike. The most difficult technical sections on Hors Class 1 and 2 trails have an easier alternative that is recommended to less skilled cyclists who want to try the trail but may be afraid or not skilled enough to ride the straight, difficult line on the most difficult features.

WORLD CUP TRAIL / 3KM
This trail is designed to imitate the UCI World Cup track. A compact lap on a small space is characteristic by its constant changes of direction, many closed curves that force you to shift often, rise from the saddle and pedal from virtually a standstill. Fast changes of descents and climbs and difficult technical sections made of stones are features that only the best bikers deal with successfully in high heart rates. If you want to try yourselves what current World Cup tracks feel like, World Cup Trail is the option of your choice. Similarly to World Cup races, the most difficult technical sections have an easier alternative that is recommended to less skilled cyclists who want to try the trail but may be afraid or not skilled enough to ride the straight, difficult line on the most difficult features.
HANDY TRAIL / 3KM
This easy and wide trail in undemanding terrain is intended for families with children that want to try to ride a trail. Due to its profile, it is also suitable for handicapped athletes who wish to train in terrain in their wheelchair or handbike, or just enjoy being in nature. You will cross a brook, get your heart pumping in modest climbs, and if you dare to not to push brakes in descents, you will enjoy great fun while riding through bends. The trail is designed to be 2m wide to allow for easy overtaking and to enable every cyclist to be accompanied by a friend or family member.
BEJBY TRAIL / 1KM
A trail for the youngest cyclists. Many turns and loads of fun for your children. The slope of the track is such that it can be ridden by kids on bikes with 16" wheels. There are no tricky sections on the track as we made sure that it is absolutely safe. Our baby trail is typical with its many turns that will teach your child to have their bike under full control. And besides, the trail is located in a really small area on an open section of a forest, which means that you will always have a good view of your little cyclist. And you do not need to only stand without bicycle and watch your child ride. 
PUMPTRACK
A new pumptrack was opened in May 2019. Its construction was financially supported by the Vysočina Region. For the young and children, the pumptrack is an opportunity to acquire basic skills and habits necessary for riding on uneven surface. Riders gradually improve and instead of pedalling, they use "pumping", i.e. up and down movement as a driving force of forward movement. This "pumping" movement gave the feature its name. This principle was taken into consideration during the design of the track that is meant to be a feature for beginners that is followed by more difficult sections. And though it is mainly rookies who will take advantage of the pumptrack to acquire their first skills, the track is an attractive challenge for experienced riders, too.
Services
No
Yes
Yes
Yes
Yes
Yes
No
Yes
Yes