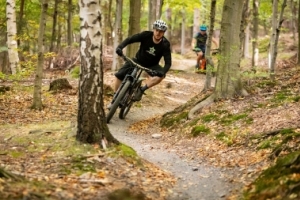 Singltrek pod Smrkem is a unique network of trails for mountain bikes that is ranked among the best places for trail riding not only in the Czech Republic, but in whole Europe. Located in Jizerské hory mountain range on the Czech Republic / Poland border, it is one of the oldest centres in the country. Its first planning phase took place at the end of autumn 2008 and continued in spring 2009. The oldest circuit of 20 kilometres that runs via Hubertka, Obří sud, Spálená hospoda and Lomnický most was built in autumn 2009.
The whole network was built in three stages, and currently if offers nearly 80 kilometres of fun riding for everyone. Trails at Singltrek pod Smrkem are playful, and their difficulty is defined by your speed. They are strictly one-way (the only exception being Nástupní trail) and colour ranking that is similar to that of ski slopes informs riders of their difficulty.
Green trails or the blue ones, are those that you definitely have to try with your kids. These trails are comfortable and lack any hard climbs or descents. The trails are like an ongoing wave running forward, they are fun to ride and most importantly, they are safe and predictable.
Red trails are ridden by those who have good command of their bikes, and who will enjoy a dynamic ride on a medium-difficulty trail.
Black trails are a treat for veteran, experienced riders who are capable of full concentration on what is ahead of them and can react fast to the line they ride.
You can select various difficulty and length of your ride, depending on your current fitness and skills. Trails are built to provide fun for absolute beginners but are not boring for experienced and picky riders either. In general, Singltrek pod Smrkem does not offer excessively technical riding; the surface of trails is smooth and shaped, which means that you can ride them in a saddle of a HT bike, and even with children.
The trails were built in cooperation with Dafydd Davis who is one of the most experienced trailbuilders in the world, and the "forefather" of mountain bike cycling in Great Britain. Singltrek pod Smrkem is a very popular destination among mountain bikers and you should definitely pay it a visit. It absolutely deserves all the prizes that it has been awarded both in the Czech Republic and abroad.



Singltrek Centrum
Areál koupaliště
Plovárenská 1056
463 65 Nové Město pod Smrkem
GPS: 50°55'35.668″N, 15°14'44.527″E
E: info@singltrek.cz
W: podsmrkem.singltrek.cz
Centrum U Kyselky
ul. 5. května
463 65 Nové Město pod Smrkem
GPS: 50°54'52.572"N, 15°14'8.863"E
E: info@trek‑centrum.cz
W: www.trek-centrum.cz
Bikecentrum Libverda
463 62 Lázně Libverda 201
GPS: 50°53'19.150"N, 15°11'21.127"E
E: info@bikecentrumlibverda.cz
W: www.bikecentrumlibverda.cz
Trails
NÁSTUPNÍ
A green trail. The only two-way trail. It is good for warm-up and getting their heart pumping for a majority of bikers. For beginners and kids, it is a good and fun trail for learning.
HŘEBENÁČ
A blue trail. It is suitable for parents with children and inexperienced bikers. Though it is an easier trail where you will have to pedal a bit more, it is definitely not boring. Many experienced riders tell us that Hřebenáč is the one they always look forward to riding.
OBORA
A red trail that connects to Hřebenáč blue trail. "Dafyddova radost" (Dafydd's Pleasure) descent is a popular section. It is a pleasing longish descent that will offer speed that you would not expect from such a trail. "V Oboře" descent is "redeemed" by a zig-zagging climb. And if you merge Hřebenáč and Obora, you will get a full-fledged trip.
RAPICKÝ OKRUH
Rapický okruh is a "roundabout" in the centre of the Singltrek pod Smrkem network. It is situated on slopes of Rapická hora mountain and stretches along both sides of the state border. It consists of a hairpin climb on the Polish side, and a short descent to a stream on the frontier. A steep climb on the Czech side is followed by a dynamic descent to Lomnický most bridge, and an up-and-down traverse back to the state border.
ASFALTOVÝ TRAVERZ
Asfaltový traverz is comprised of three sections of a forest tarmac road. Its first section named Tarmac Agony is the longest and most difficult ascent of Singltrek pod Smrkem so far. But despair not. The descents that you will enjoy thanks to climbing up this hell of a descent are well worth it.
LIBVERDSKÁ STRANA
Red trails on the Libverdská strana (Libverda Side) make a part of the first Singltrek circuit built in 2009. Most of Libverdská strana is a long (reeeeaaallly long) dynamic and fun descent that is considered to be the highlight of Singltrek pod Smrkem. The second section of the circuit is a climb that offers magnificent views in its middle part.
LUDVÍKOVSKÝ TRAVERZ
Red trails of Ludvíkovský traverz start in the vicinity of Lázně Libverda and take you from there back to Nové Město. Riding the first third of it, you may even not notice that the trail climbs - so pleasant is its rhythm. Your thighs will know that the second third is steeper but look ahead as the unforgettable descent in the third part of the trail will come soon.
NOVOMĚSTSKÁ STRANA
The red trail of Novoměstská strana (Nové Město Side) comprise of a fast and dynamic descent Nad Kyselkou that will surely make you smile with joy, and a Nad Liščí farmou traverse that will take you closer to Singltrek Centre.
OKOLO MĚDĚNCE
Okolo Měděnce (Oukrop and Nadílka štěstí) is a black trail that will take you to slopes of a hill that used to be the centre of mining activities at Nové Město pod Smrkem. You can look forward to a long, fast, but rather tight descent in some places, lovely panoramic views and an amazing climb through a forest full of majestic beeches.
NAD CZERNIAWĄ
To some, riding Nad Czerniawą feels like being in Canada - it's the hills and wild nature that evoke this. Here, it is nearly insignificant if you climb or descent (no worry, both is plentiful) as the backdrop of Czerniawa valley and Malá Góra will make a ride there an unforgettable experience.
ZAJĘCZNIK
Red trails of Zajęcznik can be reached by taking a turn at the furthermost place on the Nad Czerniawą trail. But deciding to travel there is worth it as you will be awarded by a 6-kilometre-long descent. Riding back might make your muscles hurt a bit – after all, the combination of Zajęcznik and Nad Czerniawą trail is a full-fledged mountain ride.
HEJNICKÝ HŘEBEN
Ranging a trail through a jagged rocky terrain of Hejnický hřeben ridge was not easy at all, but we succeeded doing it. Thanks to this, you will have a dramatic "black" trail ahead of you that winds past rocks and boulders. Descents are really fast. And ascents will make your legs hurt.
Services
No
Yes
Singltrek Cetrum - Orange a Rock Machine; Centrum U Kyselky - Trek; Bikecentrum Libverda - Rock Machine
Yes
Yes
Yes
Yes
Yes
Yes