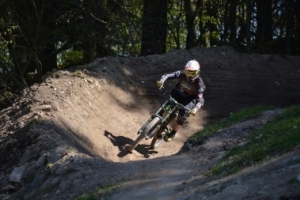 Monínec is located at Javorová skála near Sedlec-Prčice, on the border between Central Bohemian and South Bohemian regions, about 70 kilometres from Prague.
In summer, its visitors can take advantage of a great amount of cycling paths in the surrounding, and fun attractions in the area. Among them is a bikepark with several tracks suitable for both experienced riders, and for beginners, children and women, too. Also, you can enjoy great fun with features such as trampolines, tubing, discgolf, cable park, mountain scooters, tennis, volleyball and many others. Pilský rybník, a natural lido, is located just several minutes of walk from the bottom cableway station. Outside swimming pool at Hotel Monínec can be also used for some quality time in hot summer days.
Trails
For many years, we have made efforts to offer a different type of bikepark than those you can find on other hills. They usually have three, four or five trails, and each of them is different. But we have taken a different path: TRACK VARIABILITY and the option to turn off. This means that a small location can offer more variability as it gives riders chance to combine various tracks in one ride. Thanks to this, you can find your perfect track in our bikepark. But we have easier trails, too, that are suitable both for less experienced or more cautious riders, and for small beginners.
ENDURO AND DH TRAILS
The upper section of the trail offers berms that are dug directly in the ski slope. Also, you can enjoy a few simple jumps. There is no need to worry that the features are too big; all of them are equipped with wooden ramps between the start of the jump and landing section, so everyone can give it a try.
Freeride trail with northshore features is another option. It offers more jumps, and larger ones, but they are still safe.
All features in the most difficult sections are clearly marked so that riders would not overrate their skills by mistake. The track is maintained regularly by a professional shaper.
FAMILY TRAIL
Monínec also has an easier trail that is intended for all non-competitive riders and for children in particular! Once it is finished, 720 BIKEPARK MONÍNEC is really a place for the whole family. It is safe with a length of 3 kilometres. It can be ridden and enjoyed by less experienced or timid riders, and the more experienced one can increase its difficulty by riding it fast.
Services
Yes
Yes
Yes
Yes
Yes
Yes
Yes