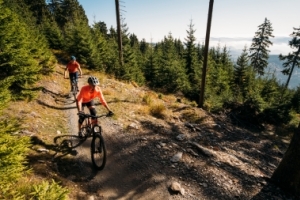 Krušné hory mountains are rather scarce with bikeparks and trail centres. Trail Park Klínovec is one of exceptions from this rule, though. It is located on southern and south-western slopes of a mountain that gave it its name, and you can get there in about half an hour drive from Karlovy Vary. It offers so much that it fully compensates bikers for the general "insufficiency" mentioned above:
Nearly 30 kilometres of trails and about 70 kilometres of marked mountain bike routes leading on forest roads. Like tentacles of a giant octopus, all trails run from the Klínovec peak and gradually descent through local forest to the bottom cableway station in Jáchymov. Trail Park Klínovec has trails divided into four levels according to their difficulty, and so it has something to offer to everyone: from rookie riders, families with children, and advanced cyclists, to experienced shredders. Absolute beginners can learn the trade on a training pumptrack that is located in the vicinity of all trails start.
The marked routes also start on the top of Klínovec - they will take you to interesting places in the vicinity, and end at one of the two cableways. The one from Jáchymov is open from May to the end of October.
Thanks to its vertical distance, Klínovec is famous for its long trails. The easy one, Azur (10.3km), and Rubin (8km) that is of medium difficulty, are among the longest continuously descending trails in Europe. Baron and its 6km of uninterrupted flow and two 3-kilometer-long enduro and DH trails are interesting, too.
Trail Park Klínovec has two starting points, the first being the top of Klínovec, and the second the bottom cableway station in Jáchymov. Both of them have parking spaces that are free of charge.
Trails
AZUR
Azur is an easy trail that is more than 10 kilometres long. It is marked in blue. It runs through a unique subalpine forest and offers several breathtaking views. It is designed for general public, including beginners and children, and can be ridden on a common mountain bike or mountain trike. It descends mildly through southern slopes of Klínovec and smoothly surges up and down. The trail is shaped and clean, predictable and does not have any tricky sections. Its natural surface is hardpacked, compact and unvarying for the whole length of the trail. The trail is safe to ride and easy to read. All of this means that Azur is a natural choice for beginners and families with children.
RUBIN
Rubin, marked by red colour, is a medium difficulty trail with length of 8 km. It boasts with a great number of bulges, humps and berms. This up-and-down "swaying and playful trail with hardpacked and stable surface is suitable for riders of all experience levels, from mildly experienced to veteran trail riders. It has quickly gained popularity among a great number of bikers, and the Bike magazine praised it by ranking it into the "Supertrail" category. Bikes with front suspension or fullies are suitable for riding it.
BARON
In a map, you will find this trail marked with black colour. It is a demanding trail with length of 6 kilometres that is intended for advanced riders. Baron offers taller and longer humps, greater compressions, many jumps and also basic technical features built of stones. It has hardpacked surface that is more natural and rather changeable, which means that it is technically more demanding. A full suspension bike is a perfect choice for this trail.
DOWNHILL KLÍNOVEC
Downhill Klínovec is a downhill track for experts. The route splits into two variants shortly after the start - the first is designed for downhill bikes, the other for enduro bicycles. In the map, both variants are marked with an orange colour (denoting difficult trails) and the total length of all downhill sections is 6km. These trails are designed mainly for lovers of technically difficult riding.
The downhill track hosts Czech Downhill Championships, and is one of the racing tracks in the iXS Downhill Cup international series. The enduro variant is included in the Czech Enduro Series.
MARKED ROUTES
Five different marked forest road routes start on the top of Klínovec, and their total length is 70 kilometres. The easiest and shortest of them is 7km long, the longest has the length of 27km. The easiest of the marked routes on tarmac and hardpacked gravel roads does not require the rider to have great level of fitness. These routes are suitable for family trips and beginners.
Able cyclists who seek hard physical activity and technical difficulty can ride the two longest and hardest routes. They will experience forest paths, steep descents and climbs that make their legs burn in pain. These routes will take you to more remote places with untraditional views.
Services
Yes - Prima Express
Yes
Yes - Mondraker Bikes
Yes
Yes
Yes
Yes
Yes
Yes