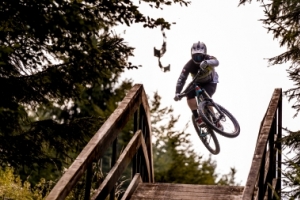 Singletrails Bílá project is a proof that the Beskydy mountain range has much to offer to cyclists. The trails are located in the village Bílá that lies not far away from Staré Hamry or Šance water reservoir. Trails run from the Zbojnická peak all the way down to the river to the center of the valley in Resort Bílá Beskydy. They are a part of winter skiing grounds of the SKI Bílá club, which means that you can take advantage of a four-seat ski lift to avoid climbing up. The resort offers many summer activities for families with children, but for lovers of adrenaline, too. Besides that, it hosts many events during the whole year: BikeFest, Moravsko-slovenský pohár MSDH Cup or big concerts.
Trails
Visitors can ride several routes of various difficulty. You can get to their start by using the ski lift. Riding down, you will enjoy sharp bends and various jumps.
REFRESH TRAIL - MEDIUM DIFFICULTY / 3KM
An entertaining flow trail with high berms, benches and drops. This trail has blue marking, which means that it is of medium difficulty, and so it can be ridden by less experienced riders. However, we recommend riding a fully. A long wooden bench - a typical feature for this trail - is placed in the middle of the trail. You would not find such a long bench anywhere around here...
MEDVĚD TRAIL – HARDER DIFFICULTY / 2.1KM
A freeride trail with berms, drops and sections full of roots. Wooden features, a tall wooden berm, and more technical sections are being added for the 2020 season, and they are sure to make this trail even more fun! This means that trails in Bílá will have yet another fun trail intended for more experienced riders.
UNICORN - TRAIL FOR CHILDREN
An easy family trail is a novelty for 2020. It will start on the top of the ski lift, and using marking poles, it will guide every family with kids down the skiing slope. Safely, and in a fun way. Simple technical features such as small bends and an entertaining route - this is what Unicorn Trail is about!
SKILLS CENTRUM
The Skills Centrum is designed to hone and improve riding skills. Humps to pump through, berms and wooden features represent the first steps towards a safe descent on trails. It is intended particularly for children and rookie riders. It is located at the trailcentre parking lot.
PROPOJOVACÍ TRAIL - SIMPLE DIFFICULTY / 0.4KM
A simple connecting trail from the Refresh Trail to the ski lift.
CLIMB ROUTE - 4.1KM
Climbing route leading to the very top of the Zbojnická hill (to the exit station of the ski lift). WARNING! The route has two-way traffic and is used by other means of transport, too (cars, bicycles, scooters...).
Services
Yes
Yes
Yes
Yes
Yes
Yes
Yes
Yes